Business Directory
H. N. Frachtmann's Jewelry Shop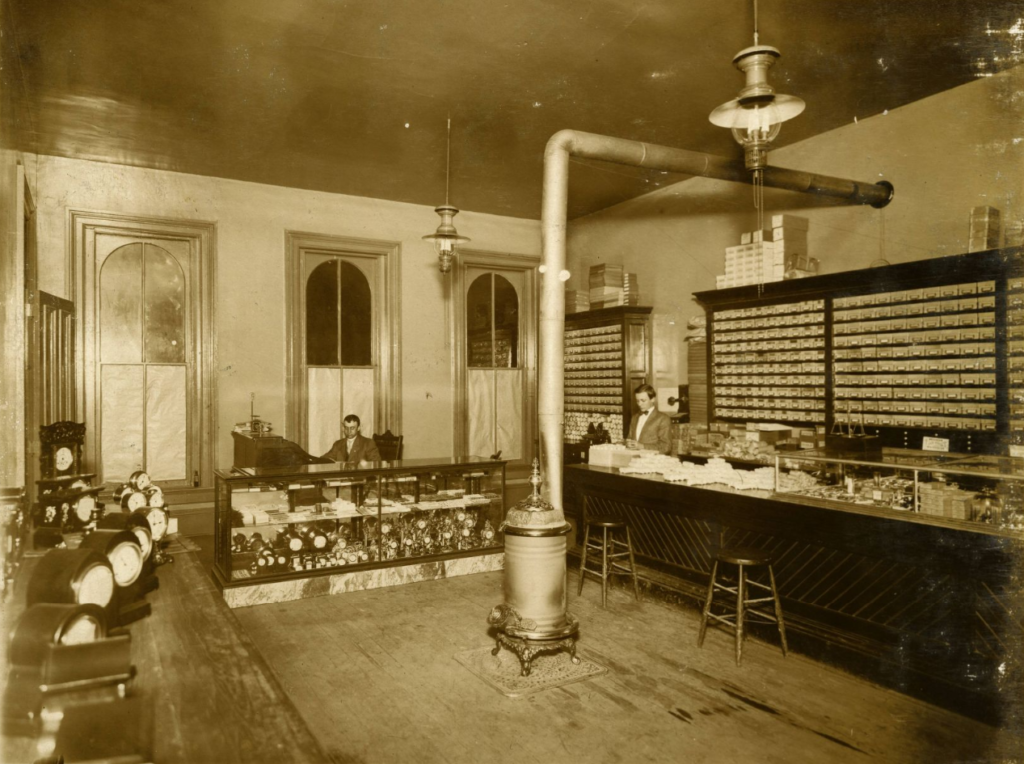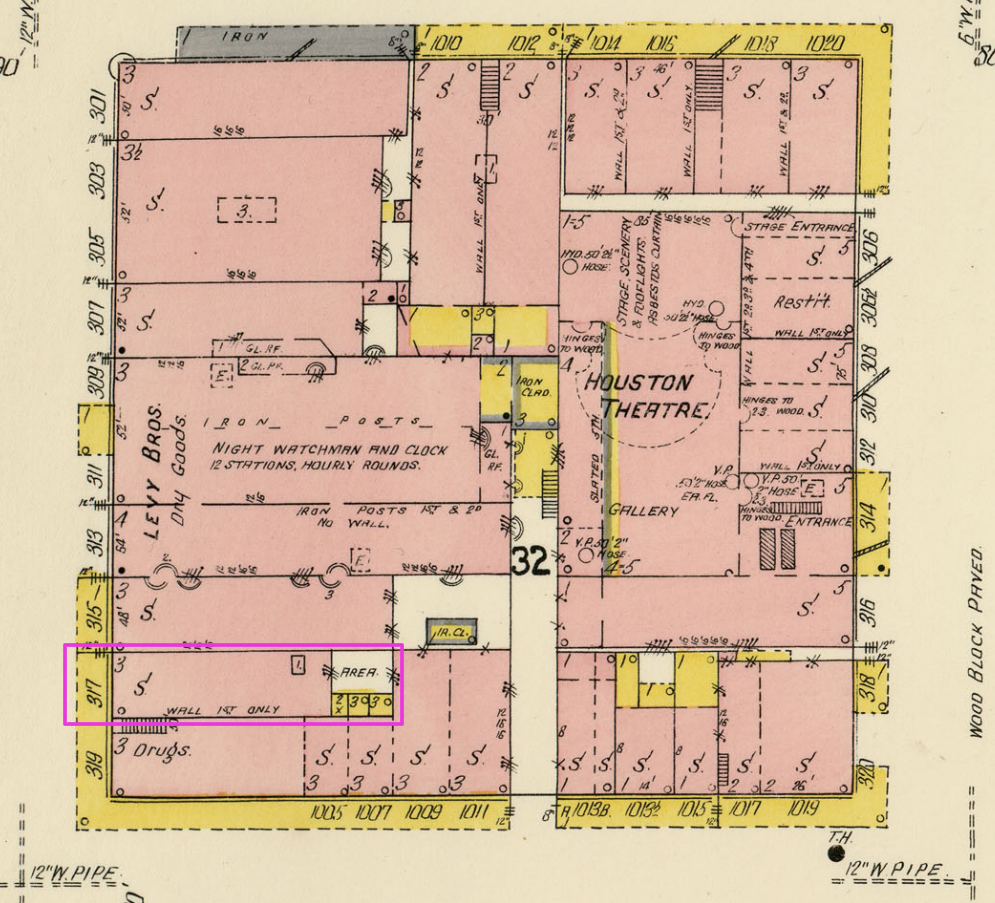 This episode of "Business Directory" will not be the usual map comparison that I usually present. This one is spicy and comes with quite a story. Strap in, y'all.
H. N. Frachtmann was a jeweler and watch-maker who sold watch materials and tools, clocks, and various jeweler's supplies.
He was also one-third of a love triangle that came to a fatal head in May of 1912.
A deathbed accusation
On Monday, May 27, 1928, the Houston Chronicle reported a woman named Mrs. L. G. O'Malley died after taking poisonous bi-chloride pills.
According to the paper, she took these pills inside H. N. Frachtmann's shop, the same one you see above, after trying to kill herself with a gun. Frachtmann wrestled the gun away from her and was wounded by a gunshot in the process.
On her deathbed, she accused Mr. Frachtmann of murdering her, claiming he had forced the pills down her throat and strangled her until she swallowed them.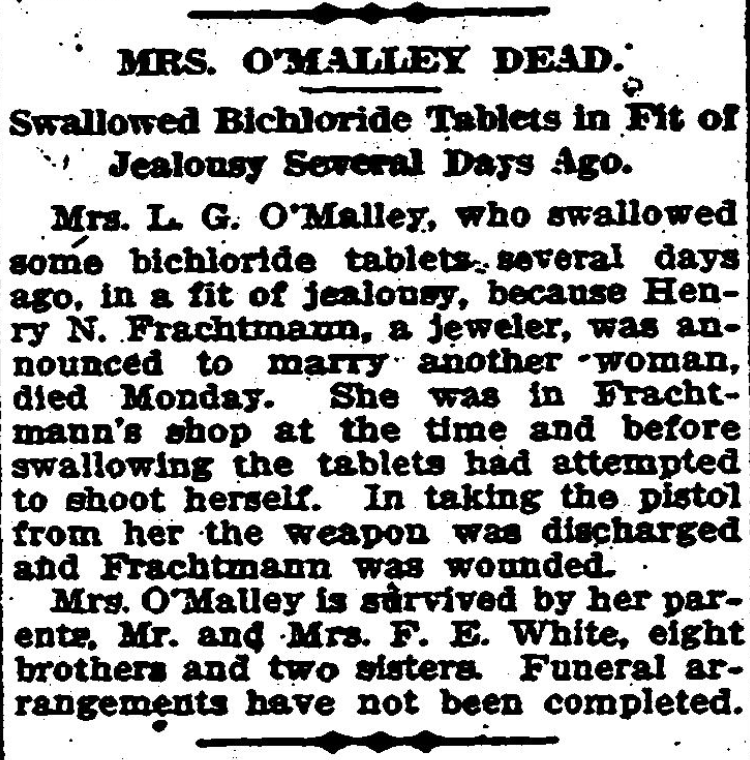 Frachtmann's Story
On Tuesday, May 28, 2912, the Houston Chronicle reported that Frachtmann was arrested Monday evening on suspicion of murder. He retained a legal team comprised of a J. Goldman, I. Kapner, and E. L. Benson who secured his $5,000 ($155,000 today) bond.
Frachtmann denied just about everything, as you would expect. Things also start to make a bit more sense once you realize that Mr. Frachtmann was set to marry another woman, Ms. Sophie Messinger, in less than a day.
According to Frachtmann, last Tuesday night (May 21st), police officers arrived at his shop and found Mrs. O'Malley on the ground suffering from poison and Frachtmann suffering from a gunshot wound.
He also claimed that O'Malley tried to kill him with the gun. When he attempted to wrestle it away from her, it discharged, hitting him in the leg. He also claims that he tried to stop her from taking the pills.
O'Malley must not have researched the pills beforehand, because she did not die quickly. She suffered for 7 agonizing days before finally succumbing on May 28th, 1912. It was on that final day that she called for Justice John. H. Crooker (1884 – 1975) and made her accusations of murder against Frachtmann.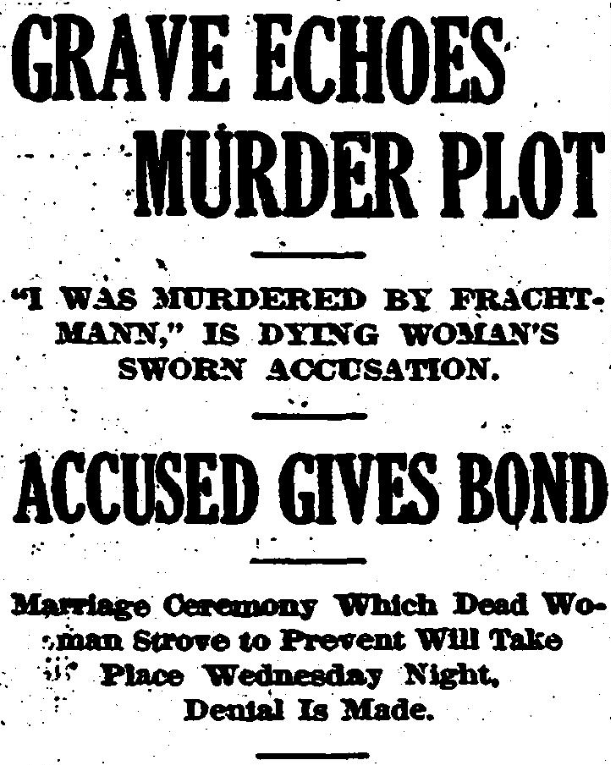 Mrs. O'Malley's Story
Justice of the Peace John H. Crooker provided O'Malley's complete statement, which I have summarized below.
Frachtmann caused O'Malley to separate from her husband and were actually engaged to marry on May 26, 1912. The wedding was to take place in St. Louis, Missouri and Frachtmann was supposed to return to her for the nuptials.
We were engaged to be married on Mar 26, 1912, in St. Louis, where he was to come for me.

L. G. O'Malley / Houston Chronicle
O'Malley later heard that he was going to marry another woman and traveled from St. Louis to confront him at his Houston shop. Frachtmann had her wait at the shop while he visited the home of the other women, Sophie Messinger.
When he finally returned at around 10p – 11p, he was upset about a will O'Malley had written which did not mention his name. He then suggested that she take bi-chloride tablets and also tried to convince her to shoot herself.
When O'Malley reached for the gun, Frachtmann got frightened and grabbed it resulting in the accidental gunshot to his leg. She then took several of the pills in her hand, fully intending to take them, and Frachtmann gave her a glass of water. When she drank the water, she attempted to run but he grabbed her and dragged her back. He reached for her throat and choked her until the poison began to take effect.
After all of that, he tried to force her out of the shop because he did not want her to die there. However, she soon collapsed and overheard him calling the police. When they finally arrived, he told him that she had been hounding him (for money) for a year and a half. This wasn't true, O'Malley stated, since she had kept her money in his safe this entire time and even paid for both of their meals with it.
I am in full possession of my sense when I make this statement, but realize that I can not live and expect to die at any time.

L. G. O'Malley / Houston Chronicle
Three Sides to Every Story
Frachtmann denied all of the above and said it was a lie intended to "blot" his future.
His legal team was extremely confident they could prove O'Malley not only committed suicide, but also intended to commit murder. She allegedly told several witnesses that she was going to kill Fractmann and then herself. These same witnesses approached Frachtmann to warn him, and implored him to request police protection, but he brushed them off and "did not take the matter seriously."
His legal team also stated that bi-chloride tablets had been taken from her on the Saturday before the crime, proving that she did fully intend to kill herself.
The case was referred to a grand jury and I did not find any further mentions of the trial, or its results. However, I did find November 1912 article that gives us a pretty big hint how it went down: