Uncovering Houston
Houston's Segregated Mardi Gras: "No-Tsu-Oh" and "De-Ro-Loc No-Tsu Oh"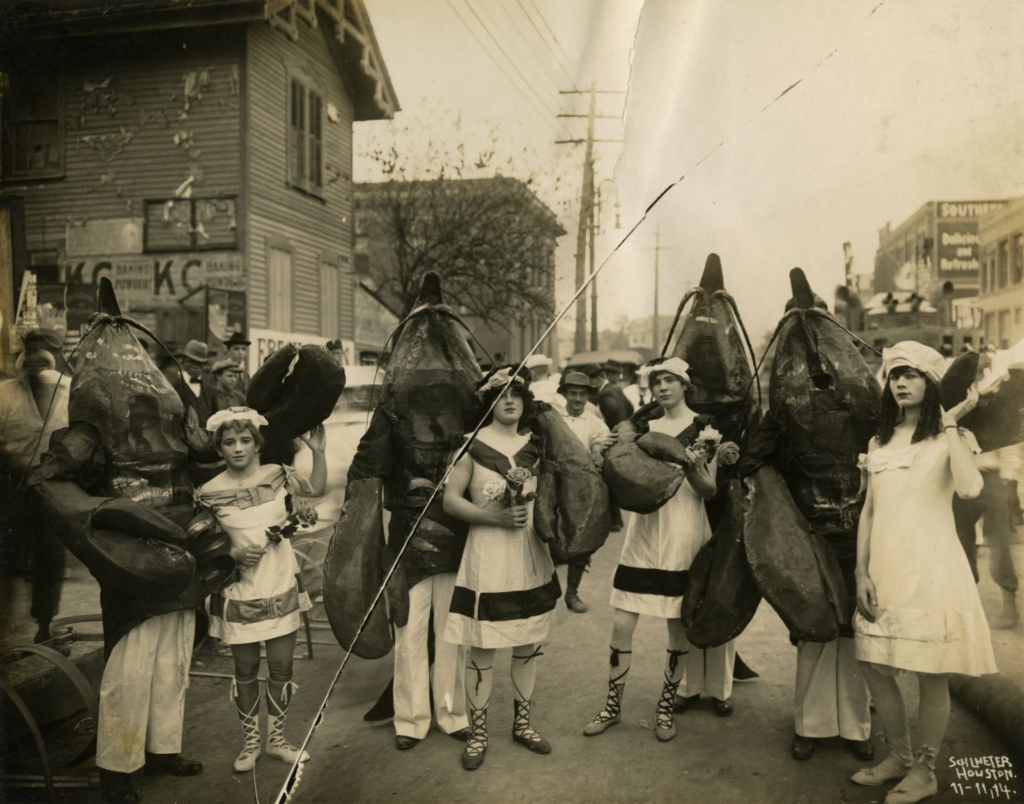 At one point, Houston (yes, our Houston), had its very own Mardi Gras-like festival. No-Tsu-Oh, Houston spelled backwards, was a city-wide party that usually lasted for several days. People busted out their wackiest costumes, created floats, and lined the streets of Downtown Houston to party for days on end. Like the Mardi Gras we know and love, No-Tsu-Oh was filled with cross-dressing, parades, balls, and lots of alcohol.
Similar to Mardi Gras "krewes," No-Tsu-Oh had groups that produced floats and at times this caused friendly, and not-so-friendly, rivalries. Also, each year's festival had a theme and an elected king similar to Mardi Gras' "Rex." In No-Tsu-Oh's case, the elected king, usually a local businessman, received the title of "King Nottoc" or "King Retaw." Backwards words were a part of No-Tsu-Oh's quirkiness and these titles were references to Houston's main sources of income at the time, cotton and the Houston Ship Channel (water). Later, King Lio (oil) was also added as a title.
Naturally, No-Tsu-oh was segregated, and Black people were not allowed to partake in or attend the festivities. In response, Houston's Black community created their own version of No-Tsu-oh called "De-Ro-Loc No-Tsu-Oh" (Colored Houston) in 1909. The festival was held around the same time of the year as No-Tsu-Oh, but took place in the Third Ward's Emancipation Park. De-Ro-Loc No-Tsu-Oh also had elected kings, also usually prominent businessmen in the Black community, who received titles such as "La-Yol E-Civ-Res" (Loyal Service).
The No-Tsu-Oh festival lasted from 1899 to 1915, when it was banned under mounting pressure from local newspapers due to the United States' involvement in of World War I. De-Ro-Loc No-Tsu-Oh, however, lasted until 1920, when it ceased due to lack of funding.
For more more information regarding the history of De-Ro-Loc No-Tsu-Oh, here's an awesome PDF courtesy of Houston History Magazine.