Business Directory
Byrd Watching
At Del Monico Spaghetti House, your plate comes with a side of bibs
We've all been at a restaurant that serves big, messy meals and managed to make a mess at our table. Sometimes the burger is just too sloppy to hold with one hand, or the baby back ribs are literally falling off the bone…and into your lap. In my case, I'm not as adept with chopsticks as I'd like to be and as a result have dropped more pieces of sushi onto my lap than I care to admit. With that in mind, imagine this happens to you, and upon returning to the restaurant where your many mishaps occurred, the server brings your food and proceeds to tie a bib around your neck. I have not a doubt in my mind that the aforementioned actions would offend even the stiffest of tippers, but at Del Monico Spaghetti House, this was the norm.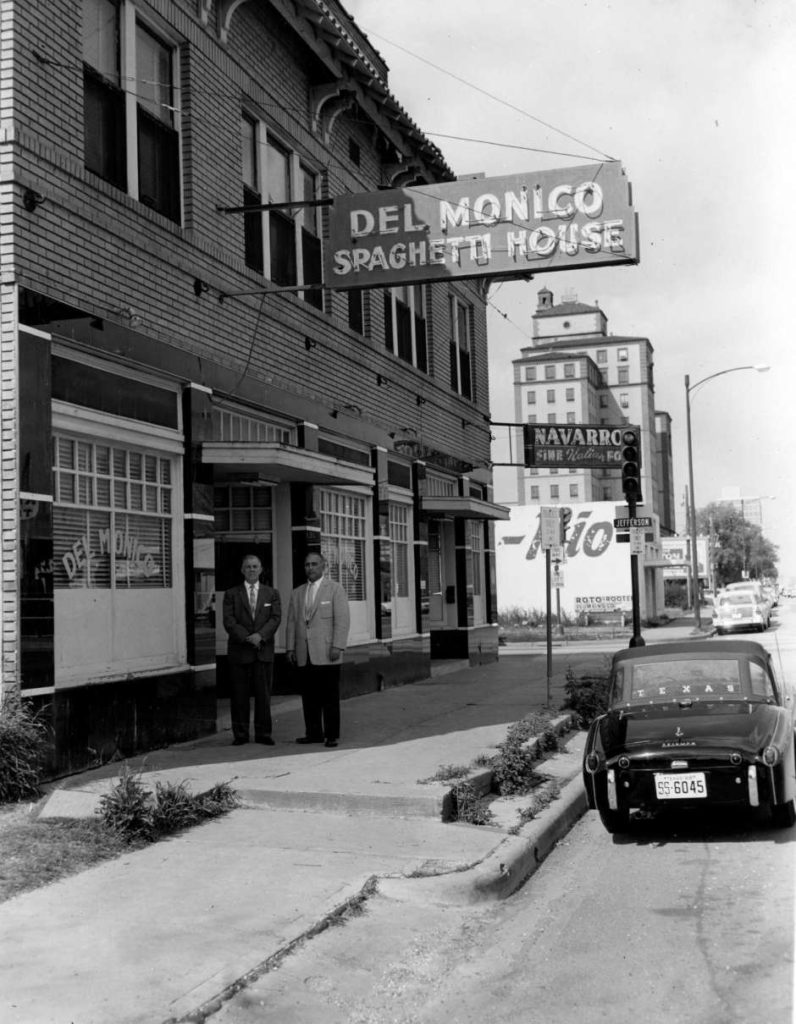 Sigman Byrd tells us in his October 7, 1947 printing of the The Stroller, that the practice began after Mr. Vincent Navarro, owner of Del Monico Spaghetti House, grew tired of seeing his customers stain their clothes. Byrd describes the establishment as, "an Old-World sort of place where the customer is considered the honored guest of an honorable host…," and it appears that Mr. Navarro was motivated not by annoyance, but out of genuine concern for the garments of his dear customers.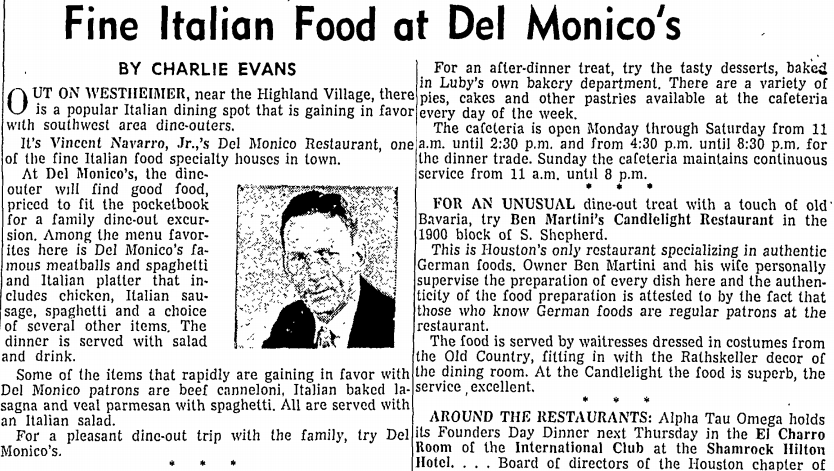 The pasta at Del Monico Spaghetti House was 40-inches long, and while Mr. Navarro considered cutting it for his customers' convenience, he decided not to. He told Mr. Byrd that while, "Some of them know how to roll spaghetti on the fork with a soup spoon," the majority of them did not. It was this seemingly uncultured majority that routinely ended up with spaghetti sauce all over their hungry faces and expensive threads.
Mr. Navarro's son, Vincent Navarro, Jr, was also sympathetic to the saucy cause and took it upon himself to order 150 bibs in various colors to match the clothing of their guests. The waitresses of Del Monico Spaghetti Warehouse were then instructed to tie the bibs around the neck of every customer who was unaware of the "spoon trick." His father initially thought the bibs to be a PR disaster, but they were actually a hit.
As for what happened to Del Monico's, Vincent Navarro, Jr eventually took over the business in the late 50's. According to several articles in the 1962 and 1963 issues of the Houston Chronicle, they eventually relocated to 3925 Westheimer after serving Downtown for 30 years. Now, the 600-698 Jefferson Ave. Parking garage sits where Del Monico's once stood.
On another note, I'm immensely grateful for the YouTube video I posted further up. I too was unaware of this spoon trick and I now have one less manner of embarrassing myself at a restaurant.
Now, if only I could find a video for chopsticks.