Byrd Watching
Where lies Tom, the beloved mascot of Houston's Fire Department?
On November 15, 1947, Sigman Byrd blessed his readers with the charming story of Tom, the hound dog mascot of the Houston Fire Department. Tom walked into the arms of the Houston's Central Fire Station as a mangy, malnourished puppy, and spent 6 years lighting up the lives of Houston's firefighters and regular citizens.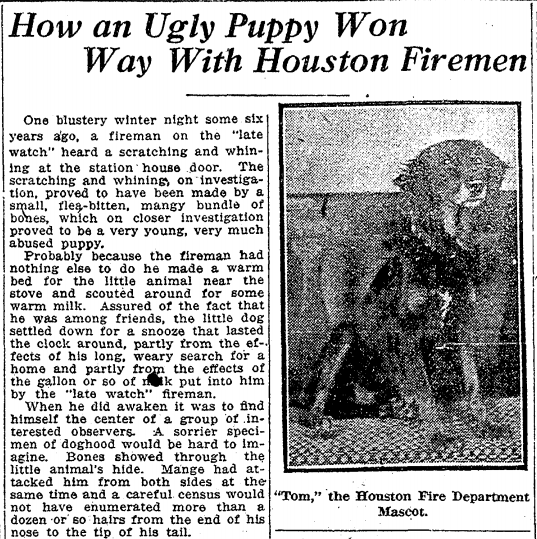 Fire Station Mascot
Tom was no ordinary dog and his character, intelligence, and personality cast a spell on everyone who encountered him. According to Fire Captain George Wilson, Tom had more sense than some of the rookie firemen he had dealt with, and the pup eventually learned to differentiate between the calls received at the station.
As far as Tom was concerned, he was a firefighter at heart and quickly adapted to the fire life. Tom kept the boys on their toes at the station and enjoyed tagging along on fire calls. Upon receiving an alarm call, the fire hound was usually the first one to run to the door and bark for the boys to get going.
Since he was the Houston Fire Department's mascot, it was Tom's duty to boost the morale. He would make his rounds to each fire station by riding the Houston Electric Company streetcars around town. The car operators were well-acquainted with Tom and let him aboard whenever they saw him waiting at a corner. In fact, Tom had such a stellar reputation that he was the only dog in Houston history who had been granted a life pass to ride on the Houston Electric Company's streetcars.
Monument and Resting Place(s)
On January 31, 1913, after 6 years of service, Tom died in the line of duty. In the midst of confusion while responding to a call, Tom was trampled by horses and run over by a fire wagon. Sid Westheimer, nephew of Michael Louis Westheimer, donated a casket for Tom's burial and he was laid to rest at the Central Fire Station on February 1, 1913.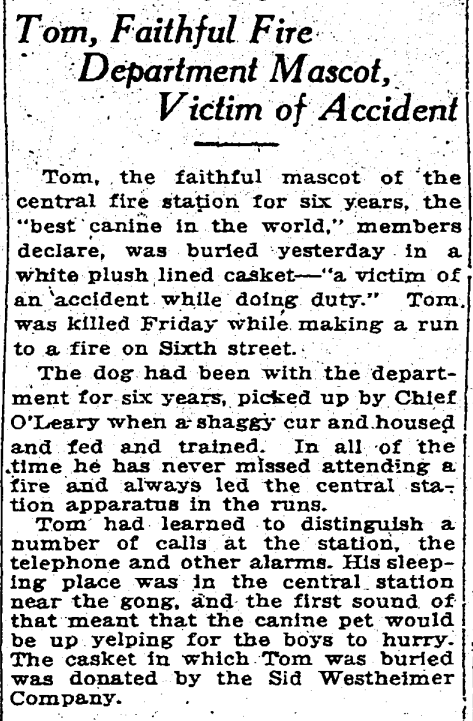 Tom's tombstone was described by Byrd as a, "marble scroll-carving, surmounted by a dropping lily," and located, "on the north side of Preston Avenue, near Caroline Street." This was the location of the current Central Fire Station at the time, which apparently caused some confusion for those wanting to pay their respects. Captain Wilson told Byrd that people often stopped to pay tribute to the carving on the sidewalk and mistakenly believed that Tom's body was buried there.
According to Sigman Byrd, Tom was actually buried at San Jacinto and Texas Avenue, which was the location of the original Central Fire Station from 1903 until 1923. In 1923, Central Fire Station moved to Preston and Caroline, which is where Byrd's 1947 conversation with Captain George Wilson takes place.
"I hate to see people misled about that. But, you see, the old station at Texas and San Jacinto stood for two years after they built this new one, and so we just left Tom behind. Then one day, before anybody knew it, they were tearing down the old station and all we could do was rescue the headstone."

Captain George Wilson to Sigman Byrd in 1947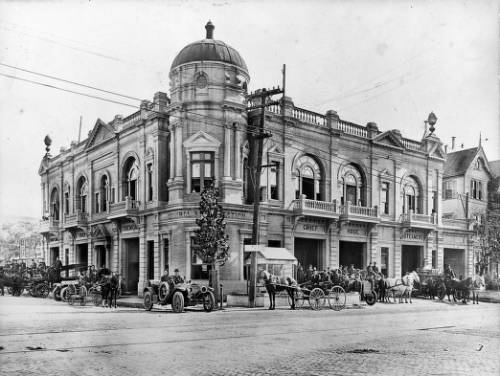 Mysterious Curiosity @ Texas and Caroline
As you can see, the 1903-1923 location of Central Fire Station is now occupied by a park and the Texas Diocese Center. Curiously enough, if you walk to the other side of block, right before Texas Avenue meets Caroline, there is a circular mosaic carved into the sidewalk.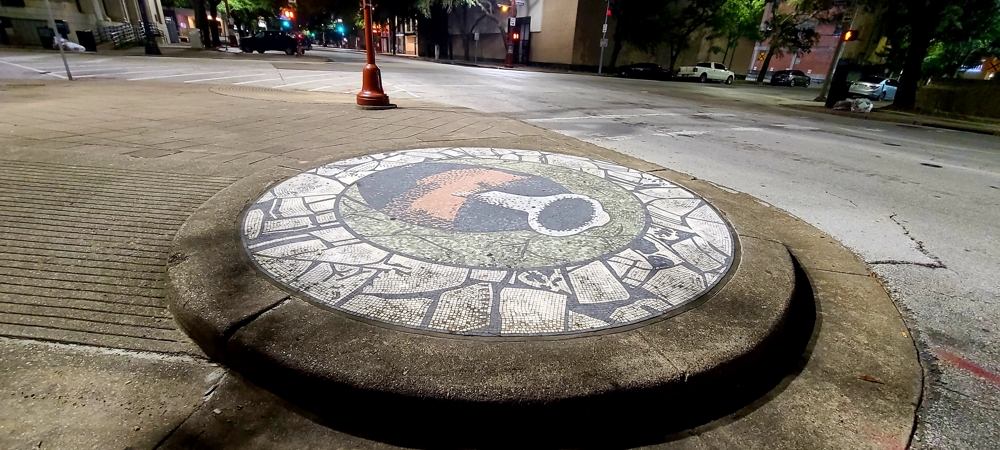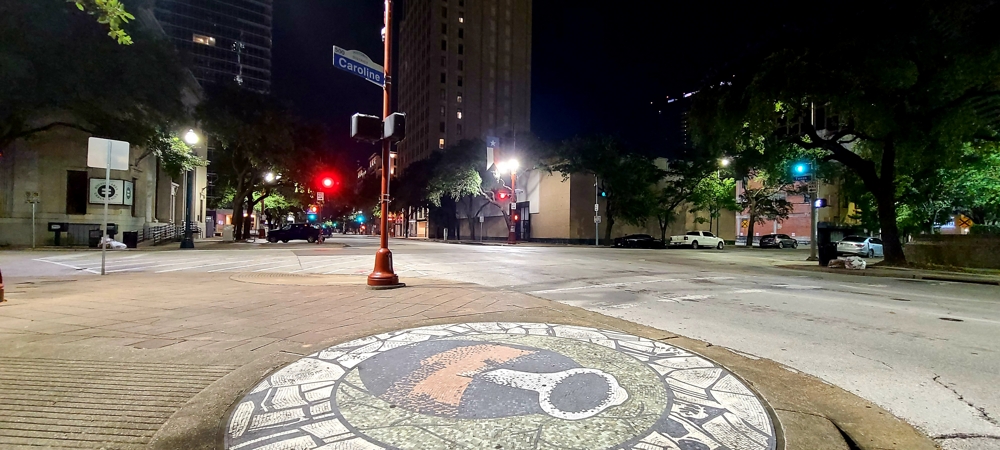 Maybe this is a homage to a certain fire pup, or maybe i'm reaching. For now, I'll leave it up to speculation and interpretation.